Sale 360
Lot 219


Canada, Registry, 1876, 8¢ dull blue (F3), Tied on cover to Mirfield England by Montreal fancy "Star"Canada, "Montreal C.E. My 10 77", "Normanton c MY 22 77 " backstamp, additionally franked with 5¢ Small Queen, three red straightline "Registered" handstamps, a little scattered toning, barely affects the 8¢, couple light horizontal folds, virtually unnoticeable from the front, an attractive and fine usage.
Scott $12,000

ONE OF THE FINER EXAMPLES OF THIS GREAT RARITY OF CANADIAN POSTAL HISTORY, ONLY 16 OF WHICH HAVE BEEN RECORDED USED IN THE PROPER 1876-1877 PERIOD.


---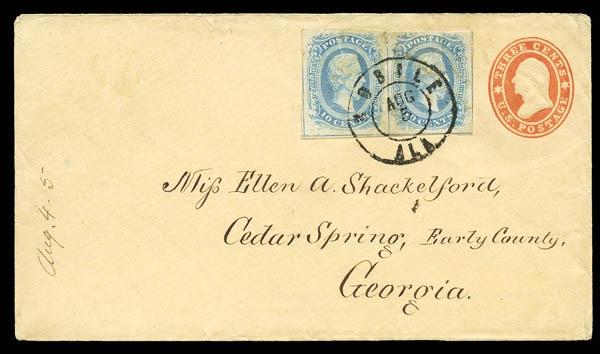 Lot 176


1863, 10¢ blue, "frame lines" (10), horizontal pair with frame line visible on three sides, tied by a neat Mobile, Ala. double circle datestamp, Aug 5 (1863), on a U.S. 3¢ Star Die entire to Cedar Spring, Ga.; both stamps have some slight damage that appears to be pre-usage, and there are minor flap faults. Otherwise Very Fine.
Scott $7,250

A RARE AND VERY ATTRACTIVE USE OF A PAIR OF TEN-CENT "FRAME LINES" ON COVER.

Expertization: signed Dietz.


---
Lot 125


1917, $5 light green (480), bottom margin plate no. 8016 block of six, original gum never hinged, beautifully centered, lovely color. Crisp Extremely Fine.
Scott $5,000

Expertization: with 2018 P.F. certificate.


---
Lot 162


Nashville, Tenn., 1861, 5¢ carmine (61X2), three nice margins, just touching at the left, tied by a mostly complete blue Nashville c.d.s., Aug 15, 1861, on a neat cover to Athens, Tenn. Very Fine.
Scott $3,500


---
Lot 298


Italy, Airmail Official, 1933, 5.25L+44.75L Balbo Trans-Atlantic Flight (CO1), flawless original gum never hinged, well centered, brilliant color. Very Fine, a superb example of this rare Airpost Official.
Scott $5,000

Expertization: with 2020 Sismondo certificate.


---
Lot 188


1863, 10¢ blue, "T-E-N" (9), a lovely mint right sheet margin mint block of six with full original gum; large top and bottom margins and just clear at the left. There are three vertical creases, two fairly light and the third somewhat heavier, the first two between the left and middle stamps (just touching the lower left) and through the right stamps; the heavier crease between the middle and right stamps, just clear of the bottom middle stamp; there is a small, faint tone spot at the top center, but otherwise the block is fresh and bright. Very Fine appearance.
Scott $7,250 as a block of 4 & a pair

A RARE MINT MULTIPLE OF THE T-E-N.


---
Lot 249

o

Great Britain, 1882, Queen Victoria, £5 orange on white paper (93), beautifully centered, bright rich color. Perfect "Southeastern District" 1894 postmark. Extremely Fine, a pristine used example of the £5 orange.
Scott $5,000


---
Lot 171


1862, 10¢ carmine (5a), large margins all around, tied by a Mt. Pleasant, Texas c.d.s. with manuscript "Nov 7" date, on a cover to Little Rock, Ark., Company G, Col. Ochiltree's Regt., Texas Infantry; professionally repaired; a gorgeous stamp on a neat, Very Fine looking cover.
Scott $5,000


---